F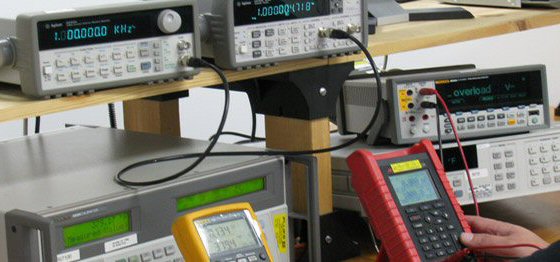 Metrology is defined as the "science of measurement." CIC applies this science to ensure correct and precise calibration. You can count on us for accurate and affordable instrument calibration. Here at CIC our highly experienced technicians use top of the line equipment in our calibration lab in order to verify the measurement accuracy of your tools and equipment. As need be, we will make any necessary adjustments and repairs. You can always expect our calibration lab to provide prompt and responsive service no matter which calibration service you choose.
Some of our most frequently chosen calibration lab services are:
Gauge Calibration, Multimeter Calibration, Load Cell Calibration, and Torque Wrench Calibration.
Accurate calibration relies on qualified people to perform the calibration. Whether your calibration and measure needs are simple or very complex, you can be sure that our calibration lab can handle the task. Cleveland Instrument Corp is prepared to provide solutions to calibrate requirements for compliance to ISO 9001. We are certified to ISO 9001-2008. Turn times are 5 to 7 days to certify your tools. Our calibration lab will return your tools cleaned and with a certificate including test data, and a NIST traceability report. Your NIST traceability report also comes complete with test range data and readings.
CIC facility is equipped to service a broad array of components:
AIRCRAFT SLINGS

AIRCRAFT JACKS

AIRDATA TEST SETS

CALIPERS

CRIMPING TOOLS

DEAD WEIGHT TESTERS

DIAL INDICATORS

DYNAMOMETERS

ENGINE SLINGS

FLOW METERS

FORCE GAUGES

FUEL CAPACITY TESTER

FUEL QUANTITY TESTERS
FUNCTION GENERATORS

GAUGE HEIGHT

INSULATION TESTERS

IFR TEST EQUIPMENT

LOAD CELLS – UP TO 100,000 LBS

MEGGERS

MICROMETERS

MULTIMETERS

NAV TESTERS

OHM, VOLT & AMP METERS

OXYGEN CLEANING SERVICES

OXYGEN REGULATORS

OXYGEN TEST EQUIPMENT

PITOT – STATIC TESTERS

POWER SUPPLIES

PRESSURE GAUGES -30VAC TO 60,000 PSI

PRESSURE SWITCHES

RECORDER
STANDARDS FOR CALIPERS/ MICROMETER

TACHOMETERS

TAPE MEASURE

TEMP EGT TESTERS

TEMP HUMIDITY CHART

THERMOMETERS

TIMERS

TIRE GAUGES

TORQUE MULTIPLIERS

TORQUE TESTERS

TORQUE WRENCHES TO 750 FT/LBS

TRANSDUCERS

PUSH PULL TESTERS

TURBINE TEMPERATURE

ULTRASONIC THICKNESS GAUGES

UV METERS

VACUUM GAUGES