Oxygen Cleaning Services:
Why you need Oxygen Cleaning:
Nothing should be left on the surface of equipment that comes into contact with oxygen that could interact with oxygen. Oxygen Cleaning involves removing any combustible contaminates from all surfaces of equipment (or in other words, surface preparation) for products that are intended to be used in oxygen service. The idea is to extend the life and performance of a part. Some of the contaminates that are targeted for cleaning are organic and inorganic substances like hydrocarbon material (oils and greases), dirt, sand, weld slag, rust, paper, fiber, and more. You should have these contaminates (especially hydrocarbons) removed and removed properly in order to avoid a combustion reaction in an oxygen atmosphere or to avoid producing a product with unacceptable purity.
Some of the most common types of materials we provide oxygen cleaning services for are low carbon steel, copper, Inconel, steel, titanium, and Hastelloy to name a few. Gauges, valves, hoses, fittings and tubes are some examples of products we often provide oxygen cleaning for that are made of these types of material. It is very important to have these surfaces cleaned to avoid fire or even explosion in extreme cases. The increased friction of any oils, dirt, sand, etc can potentially be a source of ignition.
What can CIC do for you?
Cleveland Instrument is here to get your equipment, parts and material ready for use in oxygen enriched environments.
The cleaning procedure is crucial for these items to be used in an oxygen enriched environment. All items must be free of both organic and inorganic contaminates. Our professional, skilled, and trained team will ensure that no residue is left on the parts so you can be sure no performance will be reduce due to any increased friction.
It is our goal to deliver the high quality oxygen clean products and services to those in need. Our oxygen cleaning technicians are highly educated and trained to maintain a safe environment. Our facility has the capabilities to clean nearly any size, shape, or quantity to meet and exceed your specifications.
We take safety very seriously and leave no room for error. To ensure your products, material, and equipment do not get re-contaminated we seal all oxygen parts for shipping. This ensures your equipment has remained pure so you can be rest assured when you install it and expose it with an oxygen environment.
CIC uses multiple oxygen cleaning procedures including: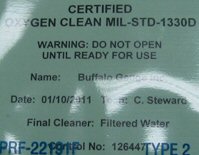 Immersion

Ultrasonic

Solvent

Mechanical Cleaning

Flushing

Spraying
Types of Oxygen Cleaning Services: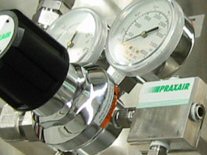 Gauges & Calibration

Tubing & Piping

Regulators

Valves

Transducers

Braided Hoses

Custom Manifolds

Oxygen Boosters

Fittings

Meters

Pressure Switches
CIC Meets or exceeds:
CGA G-4.1
Mil Std 1330-D
ASTM G93 Test I&II
SAE ARP1176