Oxygen Cleaning Services:
Why you need Oxygen Cleaning:
Nothing should be left on the surface of equipment that comes into contact with oxygen that could interact with oxygen. Oxygen Cleaning involves removing any combustible contaminates from all surfaces of equipment (or in other words, surface preparation) for products that are intended to be used in oxygen service. The idea is to extend the life and performance of a part. Some of the contaminates that are targeted for cleaning are organic and inorganic substances like hydrocarbon material (oils and greases), dirt, sand, weld slag, rust, paper, fiber, and more. You should have these contaminates (especially hydrocarbons) removed and removed properly in order to avoid a combustion reaction in an oxygen atmosphere or to avoid producing a product with unacceptable purity.
Some of the most common types of materials we provide oxygen cleaning services for are low carbon steel, copper, Inconel, steel, titanium, and Hastelloy to name a few. Gauges, valves, hoses, fittings and tubes are some examples of products we often provide oxygen cleaning for that are made of these types of material. It is very important to have these surfaces cleaned to avoid fire or even explosion in extreme cases. The increased friction of any oils, dirt, sand, etc can potentially be a source of ignition.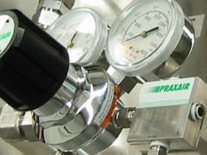 Aviation & Aerospace
Medical, Healthcare & BioTech
Mining, Geology & Oceanic

Automotive & Industrial
Manufacturing, Research & Development Emergency Rescue, Fire & Police

Military & Government
Engineering & Energy
And more…